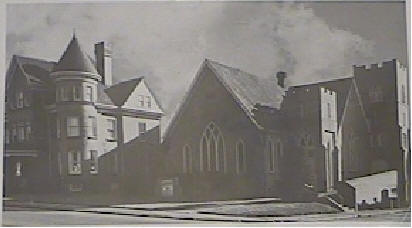 Who We Were - The Rich History of the First United Methodist Church of Canonsburg
​Our church is part of the Methodist movement founded by John Wesley in 18th century England, a reformation of the Anglican Church in which Mr. Wesley was a pastor. That movement stood for biblical integrity and social justice. Mr. Wesley believed that Christians can only be true to the Word of God as long as they were caring for the downtrodden of the world.
First Church was founded in 1842 by Rev. I. C. Pershing, great uncle of General John Pershing.

Our roots are intertwined with those of the region; our church traces its birth to the days when Mr. Pershing was a student at Jefferson College here in Canonsburg (now a part of Washington & Jefferson College in nearby Washington, PA). He searched for other Methodists with whom he could share his faith. The group grew and prospered and became a chartered congregation in 1845.

Our first church building was built in 1847 on Greenside Avenue, the first church building of any denomination within the boundaries of the Borough. That building was sold to the pioneer Roman Catholics in 1887 and became St. Patrick Church.
A larger building was erected at that time on our present site.

The congregation has survived and flourished through a remarkable time in our nation's and region's histories; she has seen growth and decline, joy and sorrow. But we keep one prayer constantly, one alone.
To bear the name of Jesus Christ, who empowers us all to be His people!

​In July, 2010, we joined with Fawcett and Meadow Lands United Methodist Churches
to form the new United in Christ Methodist Charge.
"A proud history...a promising future"
Who We Are Now
Our Mission Statement: To provide a relaxed, casual atmosphere that welcomes all to gather, as friends, to worship, so that by the power and grace of Jesus Christ, we may gain strength, wisdom and knowledge to be a visible outreach of God's love to our community.

So, come as you are and be a part of our family, as we live and work our mission statement. How?

First and foremost, we PRAY. We seek God's wisdom and guidance in the directions we need to go. We fellowship together through small group Bible studies, fellowship dinners, work days, and ladies' nights out, to name a few. We reach out to our communities by supporting the Meals on Wheels local programs, pack backpacks for Blessings in a Backpack programs, offer monthly free community spaghetti dinners, and provide snack bags for families awaiting treatment at the V.A. We pray over and knot fleece prayer blankets which are donated to people who need some extra comfort to get through a hard time. We make and deliver birthday boxes to children in the shelter, as well as providing clothing to local emergency room patients who have nothing to wear. We honor the Special Sundays set by the WPAUMC, including Disaster Relief through UMCOR.

We offer a safe and confidential meeting place to Narcotics Anonymous (N.A.) (Sunday nights at 7 PM) and Domestic Outreach Services (Thursdays at 5:30 PM). Regular Pilates and Zumba classes are held throughout the week.

If you are in search of a church home, we would love for you to come and visit. Contact the office and/or Pastor Deb at 724-745-5771 with any questions. We would love to meet you!