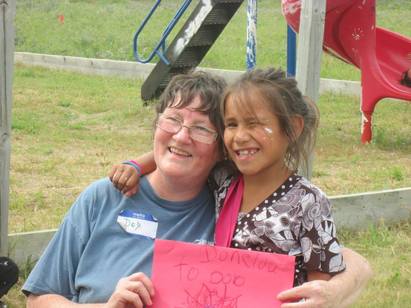 Pastor Deb on a Mission Trip
---
Getting To Know Pastor Deb
A Hands-On Pastor Indeed!
Rev. Dr. Debra Rogosky was appointed to the United in Christ United Methodist Charge in early 2013. Just prior to her relocation to our area, Pastor Deb served the New Hope United Methodist Charge in the DuBois, Pennsylvania area, consisting of five churches in a 45 mile radius. She is the current Pastor for not only First United Methodist Church, but also Meadow Lands UM and Fawcett UM in Bridgeville.

Pastor Deb is married to Edward, who also is a United Methodist pastor, on leave of absence, and has three adult children: Brandey lives in Greensburg, Justin and his wife Amy, daughter Gwendolyn, and son Liam, hail from Buchannon, West Virginia and; and Jonathan lives at home in Meadow Lands.

Pastor Deb is originally from the Latrobe, Pennsylvania area, the oldest of eight children. She graduated from high school in 1973. She graduated from the University of Pittsburgh with a B.A. in The Humanities in 1987, received a Masters of Divinity from Pittsburgh Theological Seminary in 1998 and a Doctor of Ministry from PTS in 2008, with an emphasis in Christian Education.

She has served the United Methodist as pastor for 15 years, and served on the Board of Church and Society and the Anti-Racism Team (ART) where she served as Co-Chair. She has also served on the former Children's Ministry Team from 1998-2006, serving as Chairperson for five of the six years served.

"I am not a liberal and I am not a conservative. I try to examine issues from many sides before I commit. I love the Lord and love serving in many capacities. I enjoy celebrating all the seasons in the church year.

Let us join together for worship each Sunday. Let us coin in Missions and the work of the church. Let us bring the name of Jesus to the fore, along with the Holy spirit and God, our Father.

I trust we will work together for the Kingdom and offer the love of the Triune God to all we meet!"

April 1, 2018
Easter Sunday
Sermon: "April Fool!"
​Scripture: Psalm 118: 1-2, 14-24

April 8, 2018
2nd Sunday of Easter
Sermon: The Sense of Touch"
Scripture: 1 John 1:1 - 2:2; John 20: 19-31

April 15, 2018
3rd Sunday of Easter
Sermon: "The Covenant Fulfilled"
Scripture: 1 John 3:1-7, Luke 24: 36b-48

April 22, 2018
4th Sunday of Easter
Sermon: "Lay Down One's Life..."
Scripture: 1 John 3:16-24, John 10:11-18

April 29, 2018
5th Sunday of Easter
Sermon: "Abide..."
Scripture: 1 John 4:7-21, John 15:1-8

May 6, 2018
6th Sunday of Easter
Sermon: "Keeping Commands"
Scripture: 1 John 5:1-5, John 15:9-17

May 13, 2018
7th Sunday of Easter - MOTHER'S DAY



​










​













---